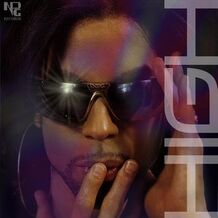 High was an album that Prince recorded and was scheduled to be released in August of 2000, but for unknown reasons, the album was shelved and instead, he released the album "The Rainbow Children."
Background
Edit
The tracks for the album were recorded in early to mid-2000.
A music video was recorded for the song "U Make My Sun Shine", a duet with Angie Stone, and it was also released as a single.
A music video was also made for "Daisy Chain" featuring Prince playing basketball in his own court at Paisley Park, and "When Eye Lay My Hands on U".
Most of the songs were distributed individually via his NPG Music Club.
The tracks "Silicon," "Daisy Chain" and "Golden Parachute" were also included on the internet-only The Slaughterhouse project.
Tracklisting
Edit
Album Personnel
Edit
Musicians
Prince - all vocals and instruments (except where noted
Mr. Hayes - additional keyboards on "Underneath The Cream"
Najee - flute on "Golden Parachute" and Gamillah"
Larry Graham - bass guitar on "The Daisy Chain"
DVS - rap on "The Daisy Chain" & background vocals on "High"
Kip Blackshire - background vocals on "High"
Angie Stone - co-lead vocals on "U Make My Sun Shine"
Milenia - background vocals on "U Make My Sun Shine"
Production
Prince - producer (assumed)
Femi Jiya - engineer
Other production details unknown.
Ad blocker interference detected!
Wikia is a free-to-use site that makes money from advertising. We have a modified experience for viewers using ad blockers

Wikia is not accessible if you've made further modifications. Remove the custom ad blocker rule(s) and the page will load as expected.