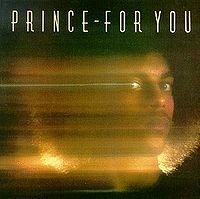 For You is Prince's debut album. It was released on April 7, 1978 by Warner Bros. Records (two months shy of his 20th birthday).
The album bore the soon-to-be classic tag "produced, arranged, composed, and performed by Prince" as it featured him writing all the songs and playing all the 27 instruments on the record.
The album was intended to establish Prince as an artist and to prove his merits; it was produced to the point of spending triple the allotted budget & because of this, Prince's next album would have to have some hits to recoup the somewhat lackluster release.
His debut album received mixed reviews from critics; while critics felt Prince had talent and possessed "the most thrilling falsetto since Smokey Robinson", the album itself was regarded as a promising but somewhat insubstantial early disco effort.
The album peaked at #163 on the Billboard 200 chart and went on to sell approximately two million copies around the world.
Tracklisting
Edit
(All tracks composed and arranged by Prince except where noted.)
Side one
"For You" – 1:08
"In Love" – 3:37
"Soft and Wet" (Chris Moon, Prince) – 3:02
"Crazy You" – 2:17
"Just as Long as We're Together" – 6:24
Side two
"Baby" – 3:10
"My Love Is Forever" – 4:11 (co-written by Moon, but not credited)
"So Blue" – 4:30
"I'm Yours" – 5:01